In the era of advanced technology, a new trend is emerging that the world is turning to, and it's called robotic process automation. Modern-day businesses are widely applying RPA to streamline their operation and cut down costs. They are greatly benefiting from RPA by automating the mundane business processes and devoting more time towards serving their clients better.
Let us delve deeper into exploring the concept of robotic process automation and the benefits organizations can reap from it.
Let's understand what is Robotic Process Automation
RPA is the use of technology that aims to automate business processes, administered by business logic and structured data inputs. It can also be defined as the application of advanced technologies like machine learning and AI to automate gargantuan and iterative tasks that were managed by humans earlier. These tasks can be as simple as triggering responses to customer queries with a chatbot, processing transaction and communicating with other digital systems to applying multiple bots to automate tasks in your ERP systems. In a nutshell, RPA is the innovative use of software that can execute iterative rule-based knowledge work across an organization as a substitute or aide to human workers.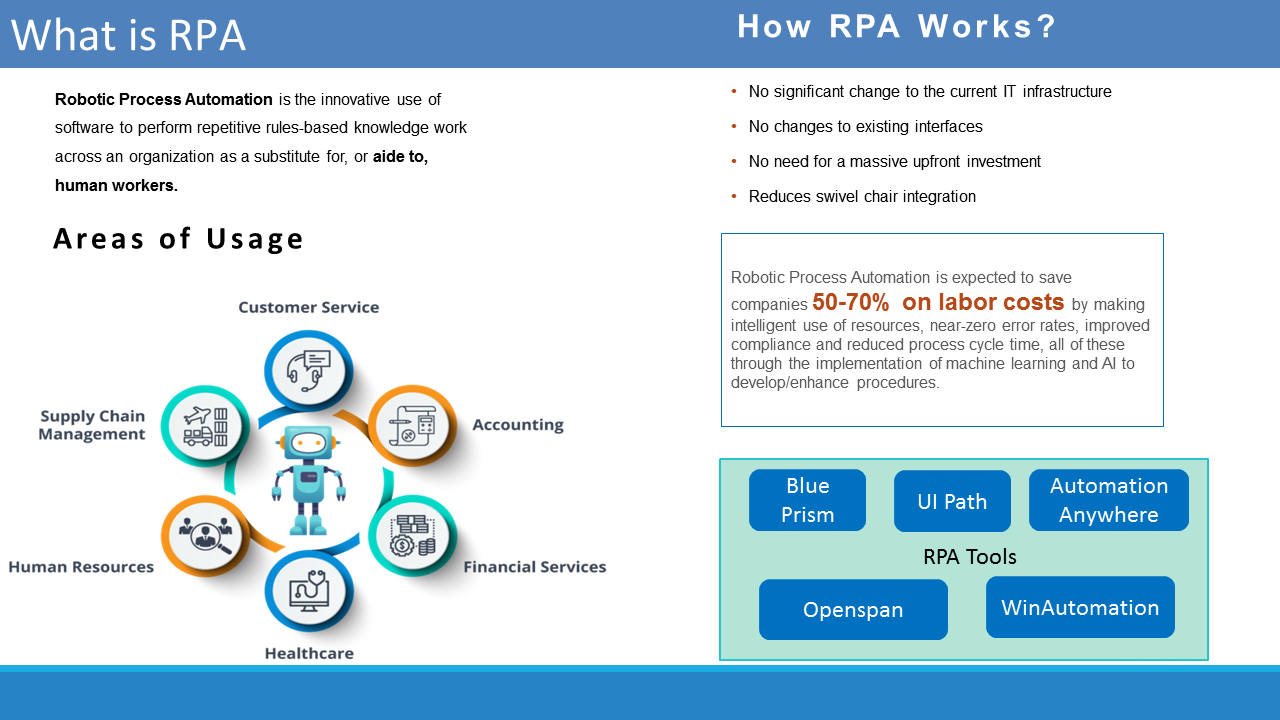 Now let's explore the benefits
RPA technology is efficiently applied to reduce costs and eliminate the likelihood of errors that humans can do. Many organizations across the world have adopted RPA technology to gain good results. It proved out to be promising in performing the business task efficiently at a cost that is 25 to 30 percent lesser of recruiting new resources. Playing a pivotal role in fostering organizations' functionality without adding significant expenditure, Robotic Process automation is bound to help organizations to serve the business better by automating the low-value task.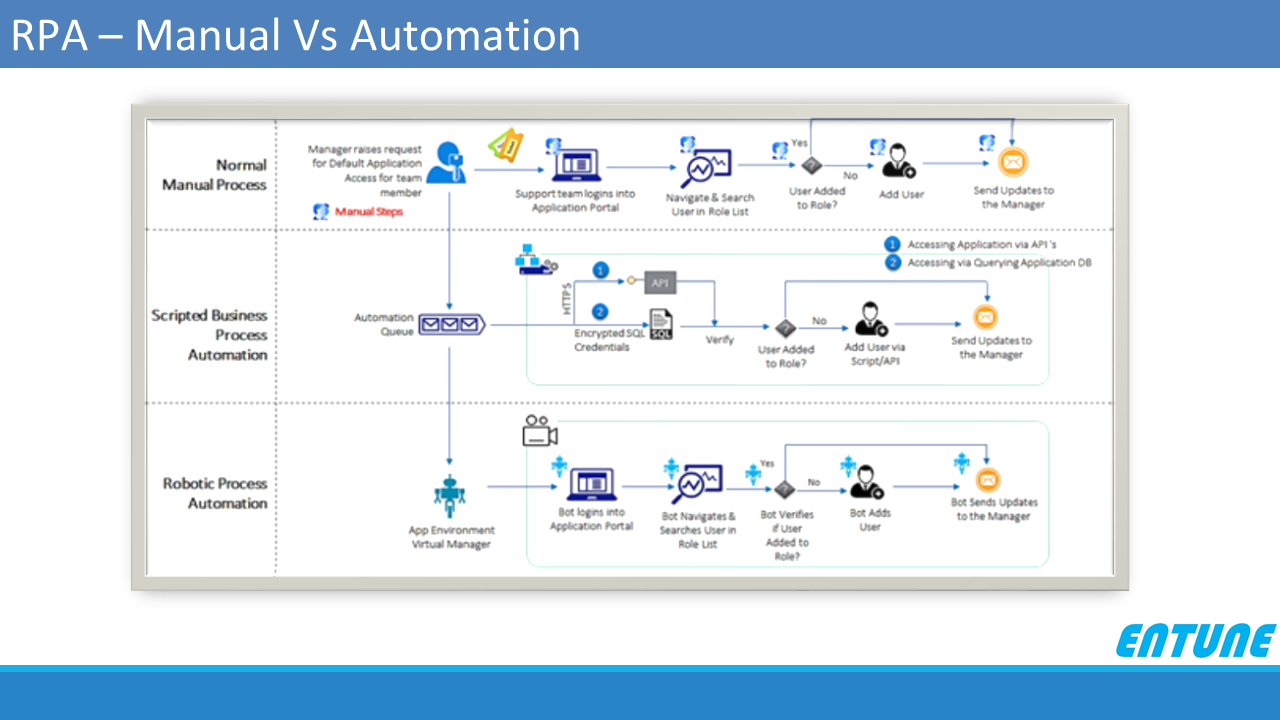 Power of AI and ML-Fueling the Automation
The automation effort of an organization can also be fueled by augmenting RPA with AI and machine learning. This can foster the power of automation to those tasks that are relatively high order and need human judgments to carry out. This automation process is called intelligent Automation.
Intelligent Automation-Taking automation one step closer to human
Intelligent automation is an advanced form of Robotic Process Automation. Here the bots or softwares are capable of mimicking the behavior of an end-user from an ERP screen or websites and can replace or edit data accordingly. This fusion of AI and automation has already begun to impact businesses across the world and in nearly every sector. Intelligent Automation systems can sense and combine a massive amount of information and can automate the entire process and workflows, learning and adapting simultaneously, as they go.
Here the keys to a successful RPA implementation
When it comes to RPA implementation, the organization needs to analyze several aspects. Ranging from gaining knowledge through proper research to testing the implementation regularly post-deployment, they need to perform multiple tasks to ensure RPA benefits are fully utilized.
Carry out proper research
RPA is relatively a new technology, and it's changing the way business is done today. It keeps evolving, and hence crucial for you to do proper research before deploying the RPA system in your organization. First, you need to analyze your organizational needs and evaluate a technology solution that exactly fits your requirements. A well-structured and in-depth business case for RPA and the key metrics you want to measure as your ROI after deployment.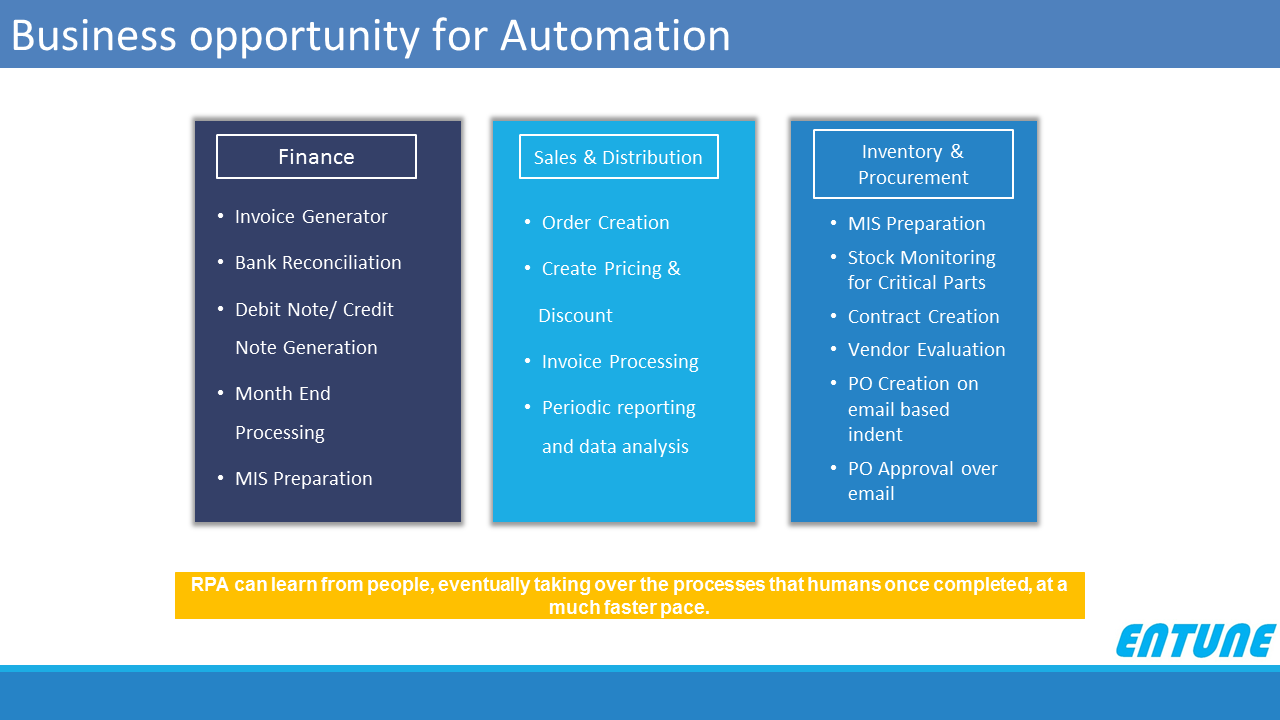 Make your employees aware of the change
RPA is a disruptive technology and hence its implementation is obviously going to befuddle employees. Hence it's important to make them aware of how this technology will impact their job role. Implementation of RPA is mostly done to help the staff perform their task quickly and efficiently and free up time for higher priority needs.
Find out the process to optimize with RPA
If you're all set to deploy RPA tools, it's best to identify the process that is likely to offer you maximum benefit and positive business outcomes. This way, your RPA strategy is likely to be successful. At this stage, one might face some challenges in deciding to prioritize the best process for automation. As you move ahead with the automation journey, be ready to evaluate and refine the process.
At the end of the day, your benefits out of RPA should be a smoothly running business process with error-prone work and less human labor.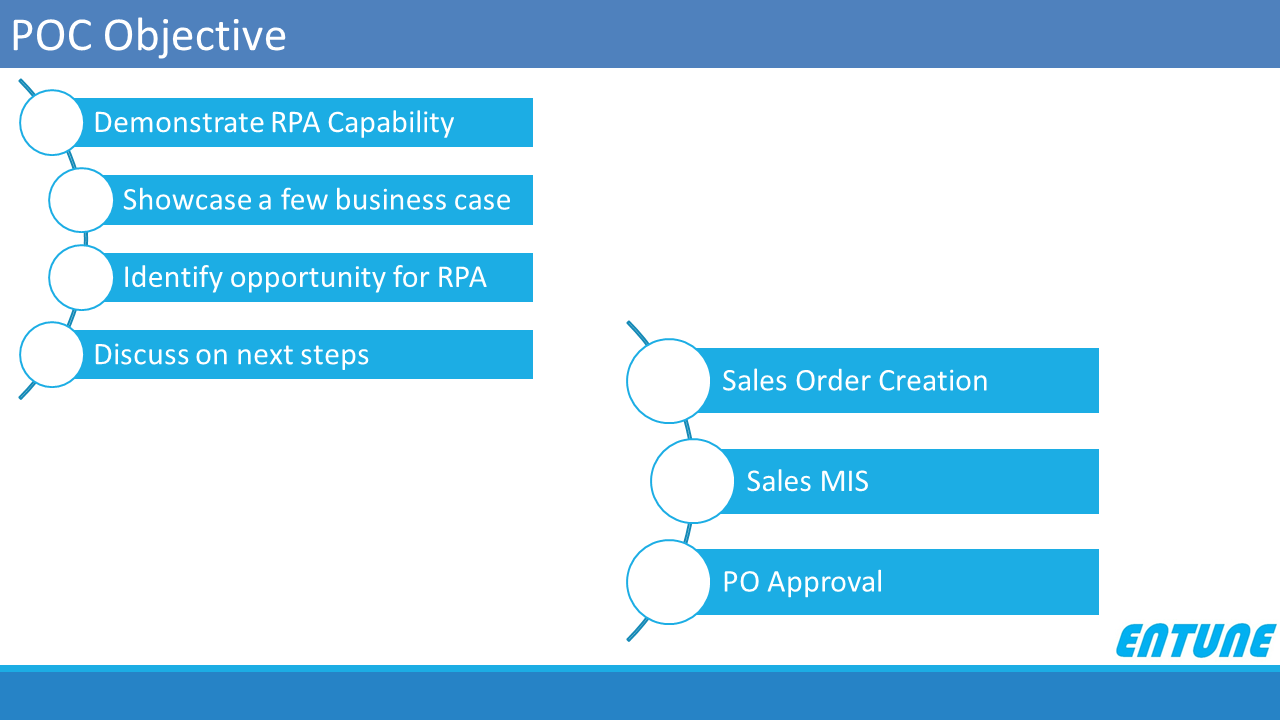 Avoid making the RPA process complex
A complex and rigorous RPA process is more likely to harm your business than to benefit it. Make the process simpler and easier to update in case anything does change.
Take security into consideration
When optimizing the process with RPA, you should not ignore data security. Transactions start occurring at incredible speed, and hence service security should be one major concern. This is what most experts say when they talk about robotic process automation. A process can be critical and important for you, and so does its secure execution.
Your job after deployment
Once you choose a process and deploy RPA into it, your job is not over yet. Every organization should test the automation tools regularly to avoid the likelihood of failure or defects in the system. Positive and negative tests both carry equal importance for an organization to be successful with robotic process automation.
Be ready for the challenges
Robotic process automation technology is advancing, and organizations need to be ready to adapt to future changes. As technology grows in the coming decades, and more and more human labor is digitized, cognitive features will enrich RPI.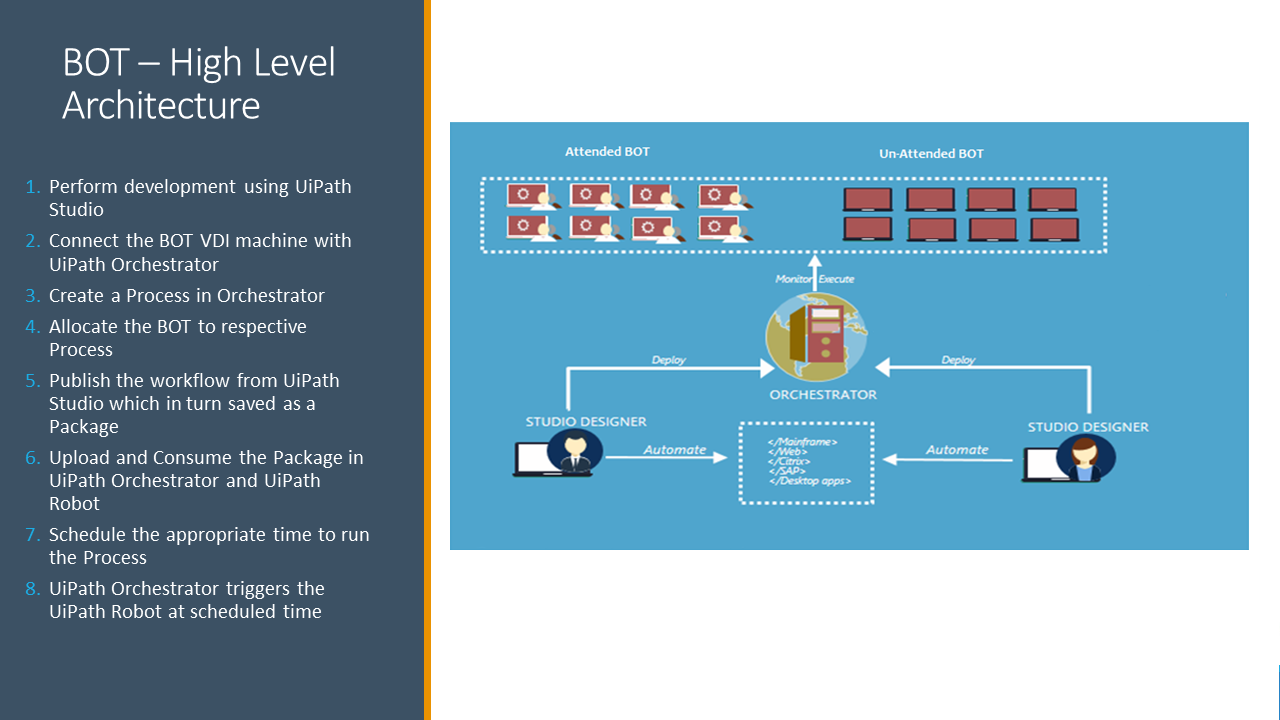 In the upcoming days, RPA will evolve to automate more complex types of jobs feeding a greater number of expectations. Self-building robots, verbal interactions based on advanced learning capabilities are going to make this disruptive technology the choice of businesses that believe in improving their customer experience with a smarter workforce.
Value proposition and Benefits of Robotic Process Automation
To deploy RPA, you don't have to make any significant changes to your current IT Infrastructure.
You don't have to make any changes to the existing interfaces.
A massive upfront investment is also not required to deploy RPA in your process.

RPA can be applied in multiple areas like Human resources, customer service, supply chain management, accounting, financial service, and healthcare. Robotic Process Automation is expected to save companies 50 percent to 70 percent on labor costs by making intelligent use of resources and completing the task at nearly zero error rate.