|Bhaskar Das
Senior Executive-Digital Marketing|
In 2015, SAP released the most innovative Enterprise platform SAP S/4 HANA– one of the best of breed ERP from SAP. It's enriched with all the functionalities that modern businesses need to gain competitive advantage. SAP S/4 HANA offers amazing user experience and faster real-time analytics along with modern best practices. So, if you make SAP S/4 HANA migration, you have many things to explore.
However, it's still a doubt among many if the investment in this technology is worth the money. Let's find it out-
SAP S/4 HANA Migration: What existing ERP customers need to consider
We're conducting business in a world that is getting smarter day by day. Undoubtedly, the force behind this rapid transformation is the evolvement of technology that is also radically affecting the way an enterprise functions. In today's business, agility and flexibility are crucial and if your business process is not aligned to be simple and flexible, you'll be losing competitive advantage.
Boost in Performance
SAP S/4 HANA is designed to enhance business performance by bringing incredible speed to transaction processing. It becomes much easier for you to deal with day to day business tasks like planning, execution, and reporting with SAP S/4 HANA. The real-time reporting and analytics feature makes it all possible.
The much-needed agility is here
As your business scale-up, the most important thing you can rely on is data. Data define and build the growth path of the future. But, to put the data into use, you need powerful analytical tools that can analyze massive data in real-time. SAP S/4 HANA does the job for you efficiently. Getting quick insight in real-time and that too, from any devices anywhere, anytime help you make a decision as quickly as your business expands in new avenues. So, if you make SAP S/4 HANA migration, you can steer your organization to the path of agility.
it's a solution to make everything simple
With SAP S/4 HANA, you'll feel the simplicity of accessing data. A fully automated data in simplified table structure enables your organization to create a data-driven strategy for your growing business. And that too, quicker and faster.
SAP S/4 HANA migration reduces Total Cost of Ownership
SAP S/4 HANA offers you a single database platform as a source of data. And a massive amount of data can be collected in one source that facilitates all the analytical and transactional operations. It's cost-effective and time-saving that reduces your total cost of ownership. You can drive operational efficiency by deploying SAP S/4 HANA on the premise or in the cloud according to your requirements.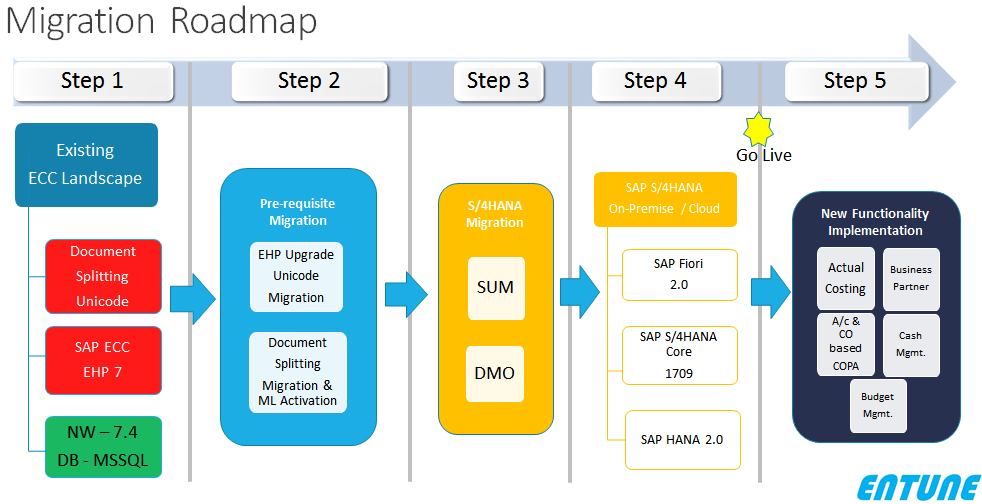 Keep abreast of digital technologies
With SAP s/4 HANA, you'll always be at the top of innovation. Your business will be placed in a continuous evolving cycle with access to all digital technologies. SAP S/4 HANA is designed to match all your needs that help drive value, save time, and keep you one step ahead in the competition.
Here are the benefits. So, you no longer need to wonder how SAP S/4 HANA migration can help your organization. Now, if you're dithering to decide towards S/4 HANA migration, let us take you to the right path.
Before investing in S/4 HANA, you'd like to analyze a few key concerns of your business like ROI, adoption strategies, and the likelihood of system conversion, etc. So, as you gear up for migration, analyze your existing IT and business environment including the new features and capabilities to determine how effective the move will be.
How can you put your step forward?
Understand your business and IT environment. You need to analyze what are the things working for you well and what is not. If not, then why.
Before you migrate to SAP S/4 HANA, building a roadmap of your migration strategy is important.
Analyze the value you'll gain from SAP S/4 HANA. Study SAP solutions in detail and how your business can use them for maximum advantage.
Once you're ready with a well-designed strategy, the next step is to start with the migration process.
SAP has given a timeline to those who are still using it's supported version of ECC. Hence, any businesses looking to move forward with SAP as their ERP solution provider should think of adopting SAP S/4 HANA. It's time to unlock the value of the age of intelligence and transform into an intelligent enterprise with SAP's innovative S/4 HANA solution.